NOW condemns the racism that inflicts a double burden of race and sex discrimination on women of color. Seeing human rights as indivisible, we are committed to identifying and fighting against those barriers to equality and justice that are imposed by racism. A leader in the struggle for civil rights since its inception in 1966, NOW is committed to diversifying our movement, and we continue to fight for equal opportunities for women of color in all areas including employment, education and reproductive rights. NOW's Combatting Racism Committee is working to encourage growth at all levels within NOW of multiracial task forces to combat racism.
Join our Florida NOW Racial Justice Task Force Facebook group to stay up-to-date with what Florida NOW is doing to work on this important issue.
General Information:
In honor of Black History Month, Florida N.O.W. would like to highlight some of the amazing black people who make our organization so great. Check out our first round of honorees below and find out how you can nominate someone to be featured this month.
---
Frontline Warrior and Fierce Feminist
FL NOW celebrates Guerdy Remy! We celebrate Guerdy Remy s we kick off our celebration of black woman making history. She is a FL NOW member, an activist and traveling nurse and works to for justice of black women. She has stood for black lives matter, reproductive rights, a livable wage, the ERA and much more. Guerdy was endorsed by FL NOW PAC when she ran for the FL Senate in 2020. Guerdy answered the crisis of the pandemic by serving in a way that few could, and she served as a traveling nurse working with marginalized communities most in need. She selflessly served on the frontline a 2020 warrior in this COVID war. Guerdy's professionalism and kindness has impacted thousands of lives. Our world is much better because of Guerdy. Thank you!
We celebrate you Guerdy Remy and the history you have already made and are making in our world right now.
College Student and Young Leader
FL NOW is honoring NOW member and FL Collegiate NOW Director, Joi Dean! Joi is a senior  studying marketing at Florida Atlantic University and is growing grassroots feminist activism on her campus while also leading NOW's grassroots growth five colleges NOW Clubs. With Joi's leadership FL NOW has 5 new interns to help organize, educate, and amplify NOW core issues. Joi is using her skills, vision, wisdom, and experience to build a better FL NOW. We celebrate Joi and she is a woman making history!
Activist and N.O.W. Leader
FL NOW is honoring Robin Harris. Robin leads FL NOW's Racial Justice Taskforce and lobbied with FL NOW and other progressive organizations fighting for legislative change in Tallahassee and DC. Robin is the co-chair of the Florida Green Party. She ran for public office as County Commissioner endorsed by NOW in 2018. She is committed to working for justice, including reparations and dismantling the colonial Patriarchy as an organizer and activist, including conducting workshops and as a public speaker.
We celebrate Robin Harris and are grateful of the knowledge, wisdom and energy she brings.
Vibrant V.P. and Trailblazer
FL NOW would like to honor FL NOW Executive Vice President Cynthia Harris! Cynthia is an activist, organizer, advocate for Black Lives Matter and the empowerment of black women. She believes in serving her community leading on her HOA and multiple community advisory boards, securing hundreds of thousands of dollars for her community in grants through Habitat For Humanity and local government. Cynthia organizes a yearly backpack giveaway for at need middle school children, organizes sanitary product donations to schools, a yearly thanksgiving feast for the most at risk, and much more.
She has helped lead FL NOW long before she was elected Vice President. She serves as FL NOW PAC treasurer, is on the board of the FL NOW Ed Fund, and is the Legislative Director for Greater Orlando NOW. Cynthia is also organizing the FL NOW Melanated Caucus to organize support and grow the voices, lived experiences, and power of black women in Florida.
She has led the Racial Justice Task force, has lobbied for change within Orange County and Tallahassee. Cynthia is a public speaker, has been a candidate for public office, and is dedicated to improving the conditions of the most marginalized.
Cynthia's support and guidance has been critical for FL NOW in this pandemic and stressful past year. Today we celebrate, thank and honor Cynthia Harris.
Veteran and Educator
Today FL NOW Honors and Celebrates Tamika Lyles. Tamika is a a veteran and she continues to serve the community standing for workers, for educators, for black lives, women and more. She is an educator and was a FL NOW PAC endorsed candidate for public office in 2020.
Tamika has earned a Master's Degree from Purdue University and a bachelor's from Lambuth College. She is the VP of the Osceola County Democratic Veterans Caucus, and the President of Osceola County Black Caucus. Tamika is a public speaker and has been featured at Woman's Marches throughout Central Florida .
Tamika leads with enthusiasm, urgency and courage, standing for what is right. Today we celebrate, honor and thank Tamika Lyles.
Attorney and Advocate
Pam is a NOW endorsed former Democratic Nominee for Congress (FL 18). She is an attorney, a former Naval JAG Officer, and the daughter of a diplomat. Pam is an Advocate committed to being a voice of truth and unyielding commitment to work for progressive change. She is a graduate of University of California and Boston College of Law.
This year Pam created the daily news show "But What It Really Means" that is aired on Patreon.com. Her show is a commitment to sharing the honest truth from a progressive view point. Pam brings to her show her authentic voice, who uses her life's experiences of being a female Veteran, a civil right attorney, a progessive woman seasoned in the political landscape of South Florida to enthusiastically be a powerful force of progressive change.
Pam Keith was our first person to be nominated from a FL NOW social media viewer to be recognized for Black History Month. FL NOW Celebrates, Honors and Recognizes Pam Keith for the history she is making and for all she stands for in these very difficult times.
To watch her show:
https://www.patreon.com//pamkeithfl
FL NOW honors National NOW President,  Christian Nunes
Christian is making history by being the first Gen X President of NOW, the largest grassroots feminist organization in the world.
NOW was founded by 28 feminists in 1966, including Shirley Chisholm, but Christian is only the second black woman to lead as President. She is committed to intersectional Feminism and all NOW's core issues. Christian has the lived experiences, skills and education that are critical in bringing NOW forward through this pandemic, the biggest crisis women have experienced in a generation. Her steady pragmatic leadership is a gift equally matched with courage and wisdom. She is doing the hard work to stand for equality for women and racial justice.
Christian is an inspiration for NOW feminist from all generations.
Today we honor, celebrate and recognize Christian Nunes. Thank you for your leadership, wisdom, courage and powerful voice!
Please read her bio to learn more about the President of NOW.
Christian has earned a MBA, MS, and LCSW. Ms. Nunes received her BSW degree from Northern Arizona University, Master of Science from Columbia University, and Master of Business Administration from the University of Phoenix.
She is an active community organizer and has spoken at events such as the March for Black Women in 2018. Along with her activism for mental health, Nunes also has over 20 years of experience advocating for children's and women's issues. In late August 2020, Christian became NOW President.
Nunes is a Licensed Clinical Social Worker, Consultant, and Woman-Minority Business Owner. In 2006, she founded a behavioral health and consulting practice where she assists social service and behavioral health companies, as well as provides direct mental health services to individuals and families. As an advocate for social justice and mental health policy, she took up the role as Chair of the Mayor's Commission on Disability Issues and co-authored a community survey on police response to crisis. Additionally, she has worked tirelessly to elect progressive candidates to school boards and local offices positions. She is often featured in media outlets including Ebony, Black Enterprise magazine, AZ News Channel 3, Yahoo News, and many more.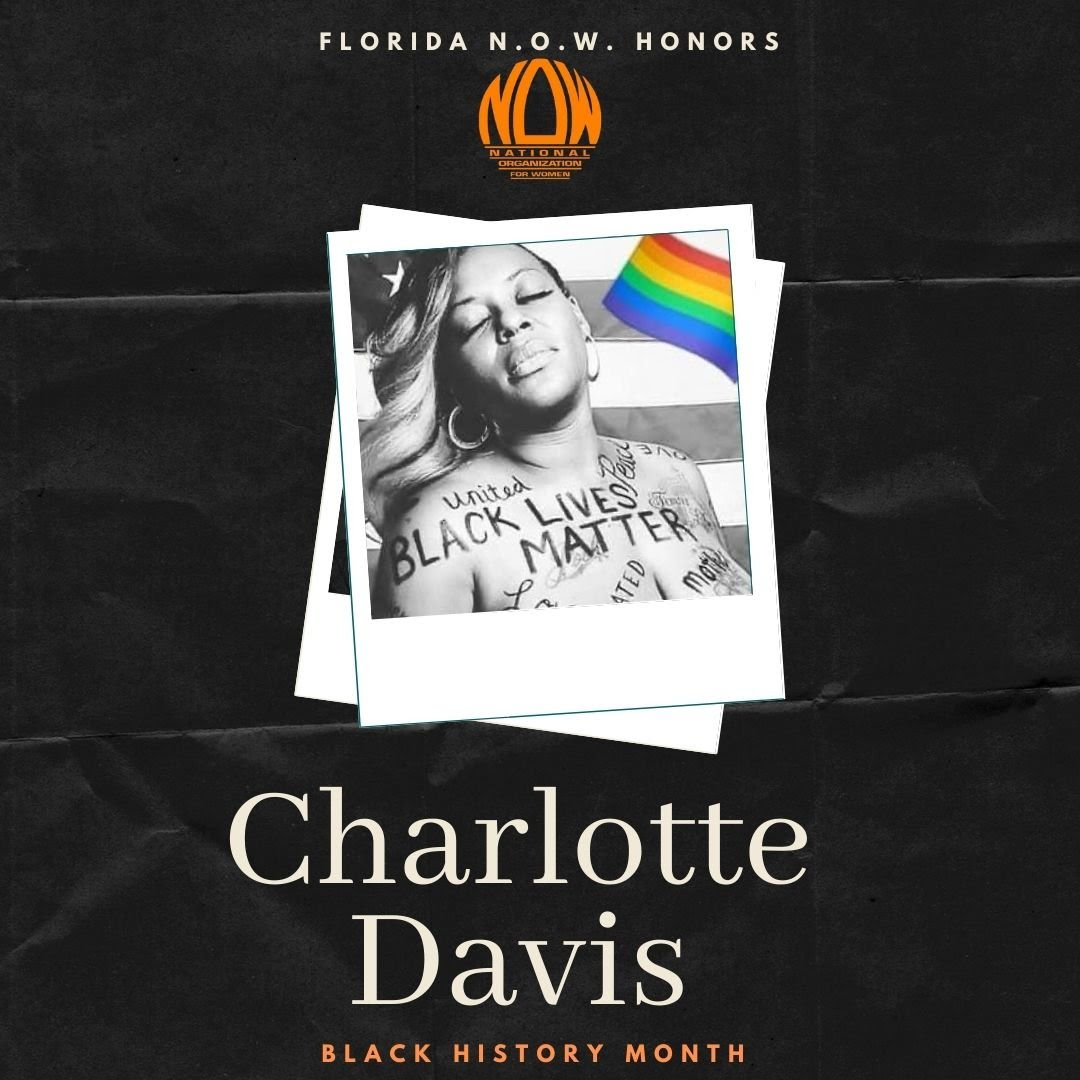 Community Organizer, Activist and Promoter
FL NOW  honors, recognizes, and celebrates FL NOW member and community leader Charlotte Davis.
Charlotte "Cha Cha" Davis serves the Orlando community in multiple ways from party promoter to HIV counselor and prevention specialist, to creating the #WeExist campaign in 2016 for marginalized communities intentionally focusing on uplifting the voices of black LGBTQ persons.
As lead organizer in 2016 for the ''Sit in For The #49," a protest in the wake of the Pulse Nightclub massacre, Charlotte and 9 others were arrested for civil disobedience which increased her advocacy efforts. She has since organized rallies and demonstrations advocating for gun control, social justice reform, and police reform and accountability, felon rights, and the rights of black trans folx and queer and trans youth.
Charlotte currently holds the title of anti racism liaison with OneOrlandoAlliance and LGBTQ outreach coordinator for Let Your Voice Be Heard Inc. She is a beloved and powerful voice speaking for black lives, and justice for the most marginalized impacted by racism, bigotry, homophobia, and the cost of living crisis. She has never failed to stand for those most in need. Charlotte was a workshop facilitator at the 2019 FL NOW conference and a speaker at our 2020 conference.
FL NOW Honors, Recognizes and Celebrates Charlotte Davis! 
---
State Representative Dotie Joseph
Dotie has been a champion for community empowerment, and advocate for civil rights and human rights since she was a teenager.
Dotie Joseph attended Miami-Dade public schools, and holds an honors degree in Political Science from Yale University, where she co-founded Klib Kreyol (the Haitian Student Alliance), and studied post-colonial relations with Columbia University in Paris, France.
Ms. Joseph also holds a Juris Doctorate from Georgetown University Law Center, where she represented political asylum seekers and served as President of the Caribbean Law Student's Association. She also holds a diploma in Mediation and Conflict Resolution for the Institute for International Mediation and Conflict Resolution.
After Yale, Dotie interned at Carter Center in Atlanta working on democracy development in Latin America, the Caribbean and West Africa. She then returned to Miami to volunteer at her dad's church, Eglise Beraca, as the Acting Youth Director.
Beyond U.S. borders, Dotie also spent several of her law school summers volunteering abroad assisting Congolese and Somali refugees in Uganda with the Refugee Law Project and as an intern with the United Nations High Commissioner for Refugees in Egypt, where she helped resettle over 100 Sudanese refugees.
As a black immigrant woman who cares about the rights to life, liberty and freedom, Dotie is committed to helping her community. Ms. Joseph was elected as the First Vice-Chair of the Miami-Dade Democratic Party, and was appointed to serve as a member of the Miami-Dade Black Affairs Advisory Board, as well as the City of North Miami Board of Adjustment.
Ms. Joseph has served as Interim City Attorney for the City of North Miami Beach and is currently a civil rights and government attorney with the all-black, all-female law firm of Austin Pamies Norris Weeks and is serving her second term as State House Representative of the 108th District.
Representative Dotie Joseph serves on the State affairs Committee, Finance & Facilities Subcommittee, Higher Education Appropriations Subcommittee, local Administration & Veterans Affairs Subcommittee, and Tourism, Infrastructure & Energy Subcommittee.
Representative Joseph has been an advocate and sponsor for the Equal Rights Amendment in FL. This week she did it again and filed as a co-sponsor for HCR 475 for FL to ratify the ERA now! Representative Joseph is also sponsoring legislation to repeal the Use of Deadly Force (Stand Your Ground laws), for prison reform, for for Covid 19 Mental Health & Wellness Program, to eliminate pregnancy discrimination and more. She is a stellar force in Tallahassee and a strong supporter of all NOW core issues. She is a gift!
FL NOW Recognizes, Celebrates and Honors Florida House Representative Dotie Joseph.
---
US Congresswoman Val Demings
FL NOW honors U.S. Representative Val Demings. Congresswoman Demings is a Greater Orlando NOW member,
FL NOW member and is endorsed by National NOW PAC. Val has been been a strong voice leading in Congress and has captivated the nation with her leadership. Val is a woman to watch as she is considering running for US Senator or FL Governor in 2022.
Congresswoman Val Demings represents Florida's 10th Congressional District in the U.S. House of Representatives. Rep. Demings is a lifelong public servant who broke numerous glass ceilings in her rise through the Orlando Police Department and her election to Congress.
Today, she works on the House Judiciary, Homeland Security, and Intelligence Committees. In 2020, she broke another glass ceiling and continued her career as a guardian of the law when she became one of the first women and one of the first Black Americans to prosecute a presidential impeachment before the U.S. Senate.
We Honor, Recognize and Celebrate U.S. Representative Val Demings. 
---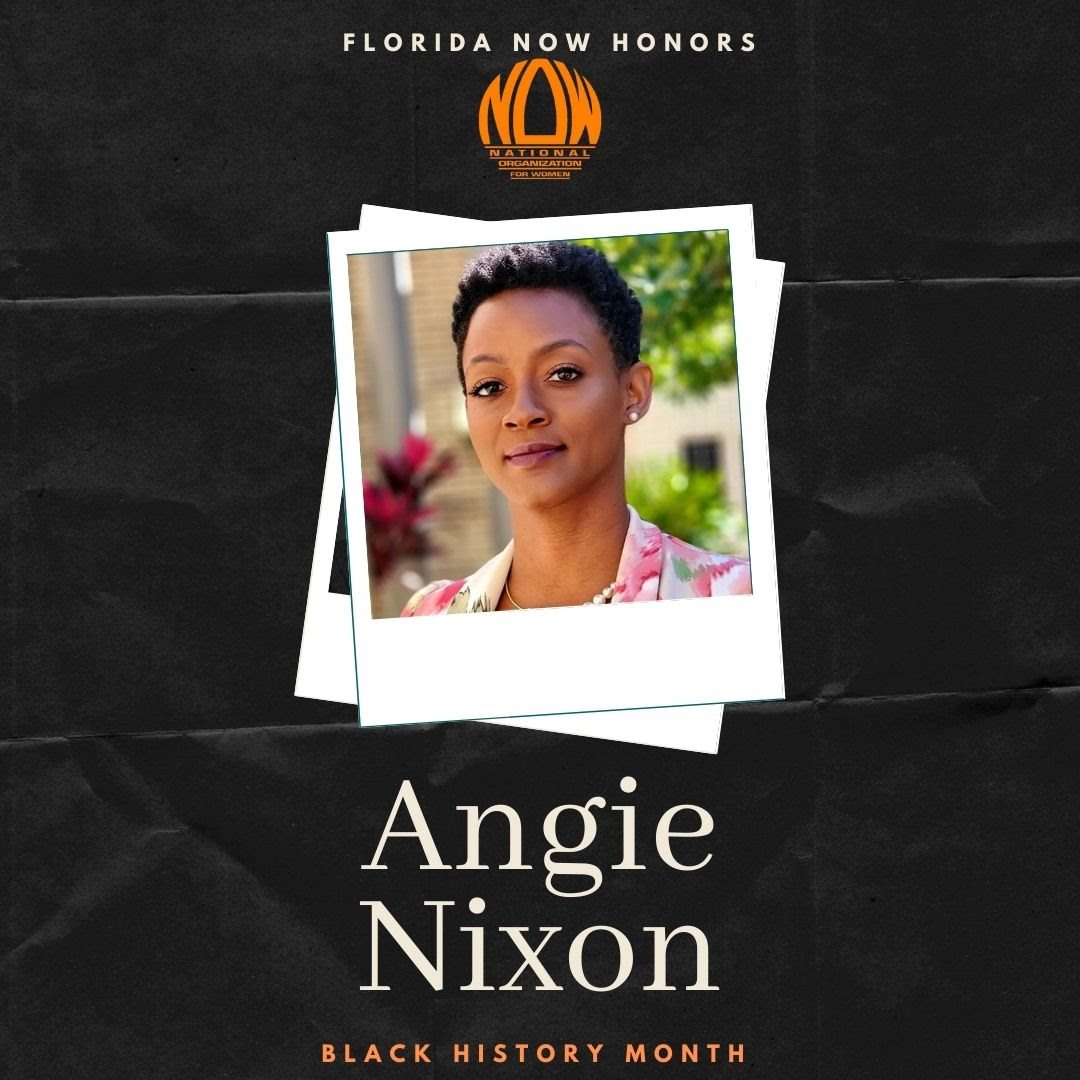 State Representative Angie Nixon
Representative Nixon was endorsed by FL NOW PAC and won her seat in the primary by earning almost 60% of the votes against an anti choice seasoned opponent.
Angie turned her passion and love for the community into a 10 yr career as a community organizer. Over the years, she has created place-making events that provided access to healthy food options in food deserts, brought in educational opportunities and training opportunities for small business owners, and created family friendly environments that focused on the overall health and well being of residents.
Angie is currently the organizer and co-founder of The Melanin Market. The Melanin Market is in its fourth year of operation and services the community by providing small business owners with resources to grow their businesses, providing healthy food options in a food desert and connecting residents to resources and services needed to enhance their quality of life.
Angie also raised over $10,000 for single moms affected by Hurricane Harvey.Angie is the current Director for the Florida Public Service Union's Higher Education Campaign and previously the State Field Director for the Service Employees International Union.
Angie also served as the North Florida Regional Organizer for New Florida Majority.Angie is also the founder of The Moxie Group, a community outreach and consulting firm that focuses on empowering underserved and underrepresented communities.
FL NOW Recognizes, Celebrates and Honors Florida House Representative Angie Nixon.
---
Forward Thinking Community Leader
Pasha Baker made history in 2020 as a FL NOW PAC endorsed candadate, Pasha was the first Black woman to ever win the primary election. Then made history again during the General election by winning the most votes of any Democrat in State House 28. Though she lost by a close margin, she continues to push her community to new bounds by starting Seminole Forward, an organization that strives to focus efforts on building Florida's economy safely, creating jobs, and expanding vocational training opportunities.
Pasha Baker is a third-generation resident of Seminole County and the CEO of the Goldsboro West Side Community Historical Association, where she manages six historical locations including Goldsboro Museum, the Goldsboro Arts Square, Francis Oliver Cultural Arts and Goldsboro Welcome Center. She was the 2020 Democratic nominee for Florida House of Representatives from District 28, which represents much of Seminole County.
This Sanford native is a proud graduate of the Seminole County Public School system and graduated from the University of South Florida with a B.A. in International Relations, as well as executive courses at Yale University. Among her many business achievements, Pasha franchised a cupcake company, and she created a construction company, women's retail store, bartending school and helped build several other businesses.  She was named an Onyx Woman on the Move in 2018 and an Orlando Business Journal 40 Under 40 in 2012 among countless other accolades.
Pasha is responsive and accessible forward-thinking community leader. She partners with small businesses, state, and federal agencies to get things done to build businesses and giving back to her community through board service and volunteerism.
FL NOW Recognizes, Celebrates and Honors Pasha Baker.
---
Union Made Feminist
Let me introduce myself, my name is Angelique L. Perry. Originally from Brooklyn New York then moved here to Orlando Florida in October of 2009. For as long as I can remember I've always wanted to serve in public office. As a little girl I watch my grand parents and my parents serve in our community which inspired me to want to do the same. As an adult living in New York, opportunity to volunteer or become a public servant was not clear to me. Although I never gave up hope it wasn't until I moved to Florida that I found my place in the world. Here in Orlando Florida I could help on an increased scale.
My career since 2001 has always been in telecom from sales to account management then on to technical support in more recent years. Working for one of the world's foremost advanced companies, the exposure to technology and government was a marriage most people are not privy to. Additionally my job with this tech company is in fact a Union job. This job is specifically covered by The Communication Workers Of America. This same Union along with the partnership of my employer, provided me a middle class income. Being a single mom when I moved to Florida, I was able to quickly get established to be ready to help others.
My heart has always been with the American people so I continued to look for ways I could help in the community. First opportunity to serve was doing photography for a charity named Thank You Veterans Golf which was run by Don Hodgskin. I provided participants who were all veterans pics of their team at no charge digitally and framed photos at cost just in time for Christmas. These events I participated from 2010 to 2013.
In 2014 I was offered by CWA Local 3108 President Steve Wisniewski to become a shop steward. After completing my training to be a shop steward I asked for more things that I could help with. Even more training was given to me along with becoming an AFL-CIO labor delegate in 2015. Certified for organizing and teaching my role included educating on civics and how unions work, screening political candidates who were seeking labors endorsement and grassroots campaigning for candidates who passed assessment but that wasn't enough. Enlisted to become a chief steward would be next so I would have the responsibility of representing more than one department of over 500. Eventually I decided to run for office within CWA Local 3108. Was elected by the members as Executive Vice President of CWA Local 3108 in 2017 During this adventure in my career I missed helping veterans. In 2016 I created a charity to help homeless veterans angelofpatriots.org. Part of my salary goes to keeping this afloat to buy food, ppe or whatever may come up for local veterans in our community.
My passion is helping people, as Executive Vice President of CWA local 3108 we have about 20 contracts which translates to about 1500 or more employees we represent. All this is just the foundation so I can further do my part in helping the American people. The future has a congressional seat with my name on it. Now more than ever people need someone who represents them with a voice loud and clear that is theirs. I can help with that. I have been fortunate to have so much support in my aspirations to help others. My hope is to do all I can to make tomorrow better than we find it today.
FL NOW Recognizes, Celebrates and Honors Angelique Perry.
---
Veteran and National NOW Board Member
Triana worked to revitalize GA NOW and because FL NOW President in 2019. In 2020 she made history by being elected as the first black woman to the National NOW board from the Southern District in this century.
Triana has been a fierce intersectional feminist who has traveled to Florida multiple times to support our FL NOW efforts as well as to AZ, SC, NC, VA and DC as an activist to promote and fight for the ERA, Equal Pay, for Reproductive Rights. She also showed leadership in Getting Out the Vote to flip GA Blue in the presidential election and in the Senate.
Triana also organized and lead protest for Black Lives Matter in summer 2020 and organized to take down Confederate monuments in Georgia. Triana has focused her career as a political advocate and public servant. She is a mother, grandmother, U.S. Veteran (US Army – Active and Reserves), and wife of a Iraq War Veteran.
In 2015, Triana founded The Susan Jolley Awareness Program, in honor of her best friend Susan Jolley, which brings awareness and education to all women and girls on the impact and prevention of cervical cancer and other gynecological cancers that affect women.
In January 2016, Triana wrote a resolution for GAHR 1101 to support Medicaid Expansion for the State of Georgia. In 2018, She ran for the Democratic primary for Lieutenant Governor of Georgia garnering over 250,000 votes.
Triana's leadership is centered around collaborating, uniting and getting to a place where love and sanity can prevail. She believes that women, and especially black women, are the change and the leaders needed to create an equitable world. Today FL NOW Honors, Recognized and Celebrates !
FL NOW Recognizes, Celebrates and Honors National NOW Southern District Board member Triana Arnold James.
Florida Senate Minority Leader
FL NOW Recognizes, Honors, and Celebrates Florida Senator and long term FL NOW champion State Senator Audrey Gibson. She is the sponsor again for the ERA, and also Intelligence-Led Policing, Law Enforcement Agency Standards and much more. Audrey has served as a FL State Senator for over 10 years and 8 years as a FL House Representative. As state Senate minority leader since 2018, her emphasis is working together with Republicans to find common ground on things like business development. Senator Gibson's leaderships is best described in her own words, "Differences in opinions, never kept me from crossing aisles to build relationships across the aisle. You have to do that. You can't just sit on your hands and lament that oh I'm in the minority and nothing will ever happen. Well nothing will ever happen unless you do it."Senator Gibson began to make her name in state politics in 2006 as a vocal critic of the state's juvenile boot camps after a 14-year-old boy died in Panama City, exposing the Department of Juvenile Justice to criticism from the Legislature.She has made small business development and corporate partnerships a focus of all her campaigns.After earning a criminology degree from Florida State University, Senator Gibson moved to California where she worked at the Orange County District Attorney's office before leaving to work for Compton's congressman.
Florida House Representative
FL NOW Recognizes, Honors, and Celebrates FL House Representative Fentrice Driskell. She has sponsored the ERA, and this year is sponsoring bills on honoring abandoned African American cemeteries, for eviction reform, intelligence led policing, suicide preventions and more. Representative Driskell was elected to represent Florida House District 63 in 2018 with a grass roots campaign that knocked on 1 in 5 doors in the district. She served her community so effectively she won re-election unopposed in 2020.Representative Driskell graduated from Florida's public schools and went on to attend Harvard, where she graduated with honors and was the first African American female student to serve as president of the undergraduate student government. She subsequently graduated from Georgetown Law School. In her career, she is an attorney and a partner at the Carlton Fields law firm. Representative Driskell is president of the George Edgecomb Bar Association for black Tampa lawyers, involved in other bar groups, and is active in local charities.
Unspoken Treasure Society Founder
FL NOW Honors, Recognize and Celebrates Gainesville NOW member and visionary feminist Regina Livingston. Regina Livingston, the founder and CEO of Unspoken Treasure Society, has always had a vision to help bring unity into the world, but at a young age, did not quite know how to make that happen. She believes all of her life's experiences have helped form her into the woman she is today. As a result, the Unspoken Treasure Society was formed. Unspoken Treasures Society is a non-profit organization dedicated to helping find solutions to the needs of the trans community of color. Our vision is to provided resources so that those affected will have the same opportunities; whether it be job placement, affordable and fair housing, safe sex education, HIV testing and counseling, suicide prevention, as well as advocating for victims of domestic abuse. Since its conception in 2018, Unspoken Treasure Society has four chapters; which includes Gainesville, Jacksonville, Hollywood Florida and Atlanta Georgia. As Regina recollects, "This has been a journey that has not always been easy, but one that I've enjoyed every minute of it. I've made a goal to help unify our trans community and I see myself doing just that."